Kingsport native becomes first ETSU student to receive Goldwater scholarship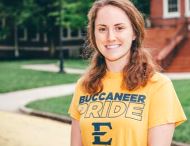 A Kingsport native and student at East Tennessee State University has captured two prestigious scholarships.
The school announced that Piper Floyd has become the first ETSU student to receive the Goldwater Scholarship and Excellence in Education Foundation grant. She was one of the only 400 students to receive the honor.
Floyd accepted the competitive Gilman International Scholarship in May. She plans to study robotics in the future and graduate in 2023.
(IMAGE: East Tennessee State University)