Mt. Carmel EMS employee injured after car crashes into station; driver charged with DUI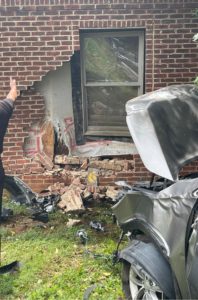 A Hawkins County EMS employee at a Mount Carmel station sustained injuries after a vehicle crashed into the building Tuesday afternoon. According to a report from Tennessee Highway Patrol, Nicole Jessen, 41, of Mount Carmel, is behind bars for DUI and reckless endangerment after she ran off the road, through two homes' yards, and collided with the Mount Carmel EMS station.
The report says an employee was just behind the wall that was struck, laying on a bed. The EMS worker sustained non life-threatening injuries and was taken to a hospital.
(Image: Hawkins County EMS)