Hawkins County drug bust results in six arrests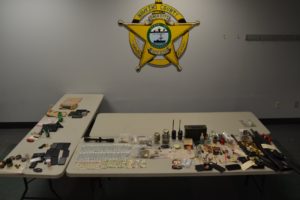 The Hawkins County Sheriff's Office says over social media that a drug bust last Friday resulted in the arrest of six people. The HCSO with help from the Tennessee Bureau of Investigation deployed what they call "Operation Reminder", where they served several arrest and search warrants in the county.
Six people were arrested: Melody Lynn Bailey, John William Roberts, Donnie Ray Brooks, Connie Susan Hefflin, Kurston Hefflin, and Daren David Kelley. Sheriff Ronnie Lawson says one suspect is still at large. Several substances were seized in the bust, including meth.
(Image: HCSO)