Kingsport hosting free, family-friendly foam party August 13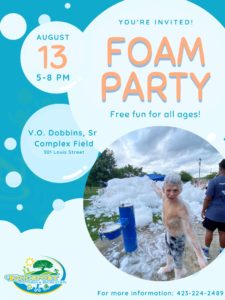 Kingsport Parks and Recreation is hosting its first ever foam party, open to the public, on Saturday. This event is great for kids of all ages, and features a machine that creates clean, safe foam that kids can make funny hairdos with, and even snowmen.
This event is free and open to the public. It happens at Kingsport's V.O Dobbins Complex on Saturday evening from 5 to 8.
(Image: KPT Parks and Rec)