State Police: ATM bandits destroy machines at two Southwest Virginia banks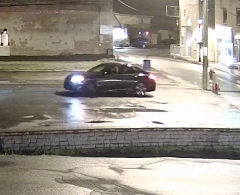 Thieves in Southwest Virginia have destroyed two ATMs in a 10-day period with both cases taking place in the middle of the night.
State Police are asking the public for help in identifying the three crooks who are reportedly driving a newer model Toyota Camry with Florida plates and a Ford F-250 pickup truck. Both of the crimes were captured on video surveillance at each of the banking locations.
The first incident occurred on July 30 in Haysi. The second was in the town of Grundy where the culprits got away with cash.
(IMAGE: Courtesy of Virginia State Police)