Two in custody following motorcycle pursuit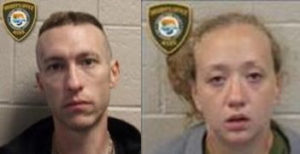 Two Johnson County, Tennessee residents are jailed after officers in neighboring Ashe County, North Carolina engaged in a high-speed chase with the pair who were aboard a motorcycle.
A report from Sheriff Phil Howell's office said Ethan Raymond Clawson faces several charges including felony eluding. His passenger Taylor Dawn Jordan is charged with an open container violation.
The pursuit lasted for over an hour and the report said the two were captured in the Ore Knob area after they were cut off by patrol cruisers.
(MUGSHOTS: Ashe County Sheriff's Office / Official Facebook / DPI)