2022 Fall and Halloween events in the Tri-Cities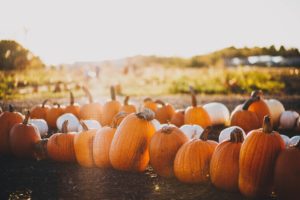 The 2022 fall season is upon us, and whether you celebrate with pumpkin patches and sweet treats, or scary haunts and nighttime thrills, events of all sorts are happening across the Tri-Cities. Below is a list of both family-friendly and spooky/scary fall-time events this season:
SPOOKY & SCARY
The Haunted Grounds:
Appalachian Fairgrounds, Gray, TN; Sept. 28- Oct. 31
Brand new in 2022: The Appalachian Fairgrounds is hosting The Haunted Grounds from Sept. 28th to Oct. 31st. Information can be found on the attraction's social media. https://www.facebook.com/TheHauntedGrounds/.
The DAM Haunted Woods of Kingsport:
HWY 75, Kingsport, TN; Each Fri. & Sat. night in October. Located near Boone Dam.
https://thedamhauntedwoods.wixsite.com/haunts?fbclid=IwAR3nWl7AK-134uf98j36EiI_zLqMwkVcMkKye6XG76wrWgOtRyL09Krj1-8
THIS IS A PHYSICAL CONTACT HAUNTED ATTRACTION.** Local gossip and rumors of those lost in the woods of East TN and missing persons reports continue to grow as authorities try to blame things like BEARS or BOBCATS. However, some folks are stubborn in their belief of something evil residing on the condemned property, and stories of CRAZIES, KILLERS, and even CANNIBALS spread like WILDFIRE. Something strange is going on here in the Tri-Cities with… THE DAM HAUNTED WOODS. Experience over a quarter-mile long trail of TOUCHABLE TERROR with our contact attraction where WE CAN TOUCH YOU! Your senses allow you to experience full body horror as you make your way through the condemned property with tales of hillside killers and cannibal mountain men filling your mind.
Frightmare Manor:
Morristown, TN; Dates vary in Sept., Oct., and Nov.
Frightmare Manor – THE Money Back Haunt – and Tennessee's REAL Haunted House & Screampark. Frightmare Manor exposes the dark secrets hidden within this historic, blood-soaked property of Tennessee serial killer – Jeremiah Lexer in Morristown.
Located on the abandoned Jeremiah Lexer plantation, Frightmare Manor spans 20 acres, offers multiple, walk thru, Haunted Attractions on site and ALSO features the Lexer Jump, Axe Throwing & the Nationally Recognized Nightmare at Frightmare Challenge. If all Walk-Thru Attractions are successfully completed & you beat the Nightmare Challenge, you WILL get your Money Back.
The Haunted Forest:
Elizabethton, TN; Each Fri. & Sat. night in October.
Located at 172 Big Springs Rd. Haunted forest, zombie outbreak challenge, escape rooms. Hayrides to all attractions led by Beetlejuice. Call for more info. 423-213-6122.
Fenders Farm (Haunted attractions):
Jonesborough, TN; Each Fri. & Sat. night in October
Haunted corn maze, Insane Inn haunted house, and Insane Inn escape room. Haunted attractions open at dark. Not recommended for children.
FALL FAMILY FUN
Fenders Farm (Family attractions):
Jonesborough, TN; Sept. 18- Oct. 31. Closed Mondays.
Pick your own pumpkin patch, gem mine, Jumping pillow, animal barn, wagon rides, cow train, annual corn maze, mega slide, Sadie's stable (11 and under area), pig races (see information booth for times), crow konk, slides, photo ops, low ropes course. All close at dark. Flashlight corn maze for families at dark Fri. and Sat. nights in October.
Jonesborough's Inaugural Pumpkin Fest:
Downtown Jonesborough; Sept. 24, 11 AM – 5 PM.
Jonesborough Area Merchants & Service Association (JAMSA) will hold their inaugural Pumpkin Fest on Saturday, September 24 from 11am-5pm. Take a stroll through Downtown Jonesborough and pick up delicious pumpkin treats. Attendees will discover endless options of sweet and savory pumpkin themed food served by small businesses. There will also be a variety of family friendly fall activities.
There are 2 tasting times to purchase tickets for, 11am-2pm or 2-5pm. Tickets are sold in packs of 10 for $20. One ticket equals one serving of a pumpkin-themed food item. The funds raised from Pumpkin Fest will go directly back to Jonesborough's small businesses and the community. Visit JBOPumpkinFest.com to purchase tickets and for more information.
Laurels Pumpkin Barn
Johnson City, TN; Open Sept. 10. through Halloween.
Pumpkins for sale and open photography at 303 Laurels Road, Johnson City. Monday-Friday 3-7 p.m., Saturday 10 a.m. – 7 p.m. and Sunday 1-5 p.m. Popular local photo shoot destination.
Downtown Kingsport Fall Fest
Glen Bruce Park; Sept. 24, 10 AM-5 PM.
"Fall Fest" featuring local Makers, Food Trucks, Endless Plants from Downtown Plant Bar!
We will see you there from 10-5! Free admission.
Hayrides at Paradise Acres
Paradise Acres, Boones Creek, TN.
It's Hayride Season! Take a 15-minute ride around the farm on the back of a 1973 Ford tractor (that has spent its entire life on this property). We'll stop occasionally to show you some interesting things as we go. $6 per person; 12 people can ride at a time. Reservations required on weekdays and recommended on weekends. Call or text 423.794.7276 to make a reservation! Hayrides start at 15 past the hour on weekends — 2:15, 3:15, 4:15, etc.
The Stickley Farm:
531 Timber Mill Private Drive; Bluff City, TN, Oct 1-31. Closed Monday.
Annual designed corn maze, Jump Pillow, Tube Slide, Inflatables, Animals, Playground Area and a Hayride, escape room. New this year, a haunted funhouse attraction.
Dollywood Harvest Festival:
Pigeon Forge, TN; Sept. 23 – Oct. 29.
Great Pumpkin LumiNights, autumn treats, Hoot Owl Hollow and more. Hoot Owl Hollow features hundreds of pumpkins in Craftsman's Valley that celebrate the nocturnal creature, including a massive 14′ tall version created with more than 150 carved white pumpkins. It's just the latest addition to the event that has overwhelmingly become one of America's favorite fall family destinations, and it surely will have guests pulling an "owl-nighter" in order to experience "owl" the fun!
Acoustic Autumn Fall Concert Series:
Founders Park, Johnson City. Every Thursday night in October.
FREE TO THE PUBLIC. Music is coming back to Founders Park! Connect Downtown Johnson City is proud to announce A BRAND NEW MUSIC SERIES, Acoustic Autumn. A FREE concert, every Thursday night in October! This 4-week fall concert series will be ALL LOCAL. Meaning, local beer each week and local singer/songwriters!
Lineup:
October 6 – Seth Thomas & Friends
October 13- Zach McNabb
October 20- Ed Snodderly
October 27- Madi Foster
Elizabethton's Barktoberfest:
Covered Bridge Park; Oct. 15, 3-8 PM.
FREE ADMISSION. Join us for the 2nd annual Barktoberfest! Vendors, Food Trucks, Beer Garden, Raffles & Auctions, Costume Contest , Yard Games, Music, Dog Yoga.
— SCHEDULE —
3 PM – 8 PM: Vendors, Food Trucks, Beer Garden, & Silent Auction
3 PM – 4 PM: Dog Yoga (courtesy of Yoga Farm)*
4 PM – 5 PM: Pet Polaroid Portraits
5 PM – 6 PM: Pup Cake Walk*
6 PM – 7 PM: Costume Contest*
7 PM – 8 PM: Live Music
*cash or pet supply donations appreciated for these activities
Tipton-Haynes Tales from the Pumpkin Patch— Appalachian Highland Celts' Halloween Spooktacular:
Tipton-Haynes Historic Site, Johnson City; Oct. 15, 3-8 PM.
Tipton Haynes and Appalachian Highland Celts have joined together to create a fun filled Halloween event on October 15th from 3:00 until 8:00, with Storytelling, Crafts and games , along with a Haunted Hayride. There will be Barbarians and Knights, Pirates and Zombies following the ride and there will be Witches dancing around a cauldron. There will be plenty of treats being passed out for the kids along the ride, so put on your finest costume and come out and join the festivities for the price of $5.00.
Greeneville Farmer's Market Fall Festival:
Greeneville Farmers Market; Oct. 8th, 9 AM- 1 PM.
Summer is gone, cooler weather is here. Come celebrate Fall with us. Take a walk by the creek at the Doak House, Bring a Picnic Lunch, enjoy the market and its vendors on this cool, crisp day. Vendor spots still available, Food Booths, Food Truck spots available. Volunteers Needed for all Events.
COMMUNITY/CITY EVENTS
Historic Jonesborough's 2022 Haunts & Happenings:
Downtown Jonesborough; Friday, October 28 from 6 p.m. to 9 p.m.
FREE TO THE PUBLIC. Trick-or-treating in downtown Jonesborough along with fun activities and games for all ages. Hocus Pocus' Sanderson Sisters will be running amuck at the Christopher Taylor Cabin provided by Enchanted Experiences by JRT. Get your photo taken and tour the decorated cabin! Show up in your best costume for the spooky costume contest starting at 7:30 p.m. in front of the Courthouse sponsored by Food City of Jonesborough. The contest will have several age groups and a group category. This event is free. For more details about the event, go to jbohalloween.com.
45th Annual Unicoi County Apple Festival:
Downtown Erwin, TN; October 7 & 8. FREE ADMISSION.
The Unicoi County Chamber of Commerce will host its 45th Annual Unicoi County Apple Festival on Friday and Saturday, Oct. 7 and 8, from 8 a.m. to 8 p.m. each day. The festival draws more than 110,000 annual attendees. The premier two-day event offers something for everyone — handmade crafts, antiques, entertainment, a large children's area, a pottery show and sale, contests and a smorgasbord of food! The craft festival, featuring nearly 375 vendors from around the country, will be lined along the downtown streets of Erwin showcasing their unique arts, crafts and foods.
The festival will also feature live music on two stages, a large children's area with games and rides, and contests throughout the weekend. Bring your appetite and let it have a festival. You can enjoy everything from Chinese to Greek foods, traditional foods such and barbecue and homemade hamburgers to apple pies and apple fritters. The festival spans across a 5 block section of downtown Erwin and includes adjoining side streets.
Downtown Elizabethton Trick-or-Treating:
October 31, 3-4:30 PM.
FREE TO THE PUBLIC. Celebrate Halloween by trick-or-treating in Downtown Elizabethton. Downtown merchants, civic clubs, and other organizations will hand out candy throughout downtown. This event is intentionally set early so that it does not conflict with other community Halloween events and operates within business hours for downtown shops.
**If you have a Fall/Halloween event, email it to us to be posted on this list!**
(Image: unsplash)