Abingdon driver cited in crash that shut down Interstate 81 Tuesday evening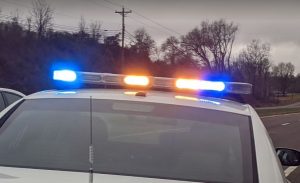 A 90-year-old driver from Abingdon was cited in a four-vehicle crash that shut down a portion of Interstate 81 in Sullivan County Tuesday evening.
A report from the Tennessee Highway Patrol said an SUV driven southbound by Trula Harris attempted to turn left into the median space reserved for authorized vehicles near mile marker 71 causing a tractor-trailer to swerve into the median and then into northbound traffic when it collided with two other vehicles.
The aftermath resulted in a traffic jam that stretched over five miles on I-81 northbound. Normal traffic patterns did not resume until after 6:30 p.m.
(IMAGE: Bristol Broadcasting Co News Archive)