ETSU's ice rink opens to the public December 2nd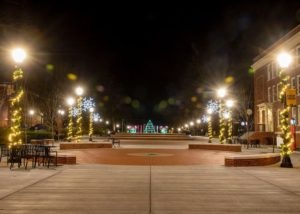 A new feature at East Tennessee State University this holiday season is an ice rink, and it opens to the public this Friday. According to ETSU, the synthetic rink is outdoors and located in University Commons, just adjacent to the D.P Culp Center.
The ice rink is open to the public, not just ETSU students. Admission for one hour of skating, including skate rental is $3 with a valid ETSU ID and $5 for the public. Skating aids are also available for kids. The ice rink is open until January, and a full schedule of dates and hour can be found on etsu.edu/skate. The rink officially opens on Dec. 2 from 4-8 p.m., with a grand opening Bucky's Blizzard Block Party for students and the community– including free skate time.
(Image: ETSU)