Johnson City Public Art: Submissions open for downtown banner exhibition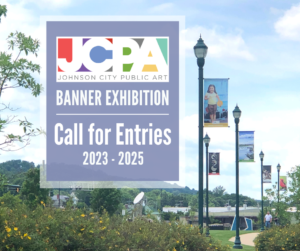 The Johnson City Public Art Committee is searching for local artwork to be featured on weather-proof banners across downtown. According to a social media post, the banners will be installed on lampposts in and around Founders Park.
Selected artwork will be on display from June 2023 until May 2025. Local residents of all ages are welcome to submit artwork for consideration. Images can include photography, paintings, pottery, sculptures, glass work, etc. Up to three images can be submitted, and the deadline to enter is December 9th. More details and submissions can be made on JcPublicArt.com.
(Image: JCPA)