Fugitive from Wisconsin arrested in Gray, Tennessee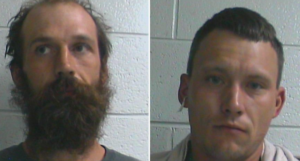 A fugitive wanted in Wisconsin was arrested in Gray, according to the Washington County Sheriff's Office. A report says deputies conducted a routine traffic stop on Highway 36, where a K9 alerted on the vehicle. Officers found less than six grams of marijuana and other paraphernalia.
The driver was identified as Ronald Allen Ezra Martin Jr., 33, of Morganton, NC; and deputies learned he was driving on a suspended license. The passenger refused to provide his identity, and both were taken to the Washington County Detention Center.
Once at the jail, officers identified the passenger as Robert Daniel Beck, 33, of Madison, WI. Beck is reportedly a fugitive, wanted on a full extradition parole violation where he was charged with aggravated battery, strangulation, and bail jumping. The WCSO says it has contacted Wisconsin law enforcement to alert them that Beck is in custody.
(Image: WCSO; Martin on left; Beck on right)