Vanderbilt poll: DeSantis edges Trump for GOP nomination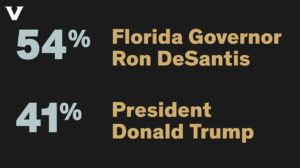 The division in the Republican Party is evident when scanning the numbers in a recent Vanderbilt University poll.
The data among registered voters indicate they do not want a repeat of the 2020 election with Donald Trump and Joe Biden while 34 percent of GOP members consider themselves part of the MAGA movement.
Republicans who support Florida Gov. Ron DeSantis exceed Trump's crowd but only by 6 percent. Vanderbilt poll contributor John Geer said the winner-take-all format of the GOP primary could split the vote among three challengers but Trump would have enough delegates to capture the nomination.
(IMAGE: Vanderbilt University / Official YouTube / DPI)