Daniel Boone High School gym floor likely destroyed following burst pipe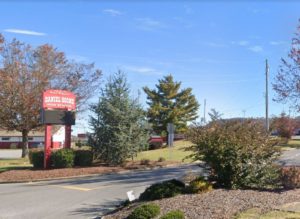 Washington County, Tennessee Director of Schools, Jerry Boyd, says the gymnasium floor at Daniel Boone High School is possibly destroyed and will likely require a full replacement after a sprinkler pipe burst and flooded parts of the school.
A statement on Friday says almost 90 percent of the gym floor at Daniel Boone was flooded, as well as the majority of the cafeteria floor, and some of the front offices. After inspection, Boyd says the current condition of the gym floor is unsafe, and while a decision is made on repairs or replacement, upcoming basketball home games and other gym events will be relocated.
Full statement below:
At approximately 4:00 pm Christmas Day, a sprinkler pipe in the front hall gym lobby at Daniel Boone High School burst. Our maintenance department responded quickly to the issue. Unfortunately, when the water supply to the area could be shut off, most of the DBHS gym floor (~90%), much of the cafeteria floor, and a section of front offices were flooded. Because the gym floor was most susceptible to damage, clean up in that area occurred immediately. Unfortunately, the current condition of the gym flooring indicates the damage is irreparable. The water on the gym floor has resulted in buckling that has rendered the surface unsafe for use.
We are currently in the process of seeking all options given the high probability that the DBHS gym flooring will require a complete replacement. The DBHS administration, athletic director, and coaches are developing a plan to relocate the remaining home basketball games as well as any other activities that may currently be scheduled in the DBHS Gym this winter and spring. All changes will be posted on the school and district websites.
In addition to water issues at DBHS due to the freezing temperatures over the Christmas holidays, our maintenance department also responded to similar, but less substantial, issues at David Crockett High School and Grandview Elementary School. We have also had some water damage due to a burst domestic water line at Ridgeview Elementary School impacting the gym. Although the damage to the RES gym floor currently appears to be significantly less than the DBHS gym floor, we are anticipating some areas of the RES gym floor that will require repair and possibly full replacement. Changes in any activities scheduled to occur at the RES gym will be posted on the school and district websites.
(Image: Google Maps)