Lawmakers approve re-election of Bristol's Jason Mumpower as State Comptroller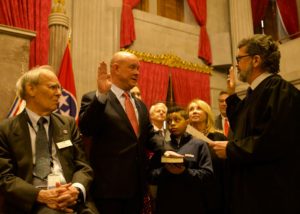 Bristol native Jason Mumpower was re-elected to serve as Tennessee's Comptroller of the Treasury by the Senate and House of Representatives.
It is the second two-year term for the 49-year-old Mumpower who was administered the oath in General Assembly chambers with his son 10-year-old Max holding the Bible for his ceremony.
Mumpower leads a staff of 580 workers across the state.
(IMAGE: Tennessee Office of the Comptroller / Tennessee General Assembly)