Pinnacle in Bristol Set to Host 5K Run in August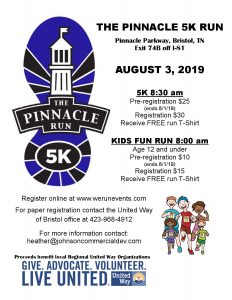 The Pinnacle Shopping Complex in Bristol is set to host a 5K in support of regional United Way organizations.
The event will begin at 8:00 A.M with a kids half mile run that will start shorty before the adult 5K run and walk at 8:30 A.M. The course will begin and end in front of Johnny Brusco's, and the course will span across the entire Pinnacle property. Proceeds from the 5K will help support programs for under-privileged families, seniors, and children with after school programs and financial help.
Pre-registration ends August 1st, and the cost to enter the 5K is $25, and $10 for the Kid's Fun Run. Regular registration is Friday August 2nd. The Pinnacle 5K takes places Saturday August 3rd, and for more information about registration and the event itself, visit here.
Courtesy of Image: United Way of Bristol