Wise County child abuse suspect denied bond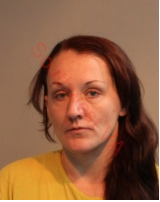 A Wise County, Virginia woman indicted earlier this year for child abuse had her request for bond denied by a Circuit Court judge.
Amanda Noel Taylor of Coeburn is scheduled to go on trial on the charge beginning Sept. 27. A criminal complaint said that Taylor and another woman were found passed out by police in the front of a car in August 2018 while a young child was found in the backseat. Officers also recovered meth and syringes during the investigation.
(PHOTO: SW Virginia Regional Jail)