In-state tuition change at UVa Wise reaps 23 students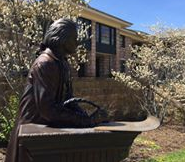 A change to enrollment requirements at the University of Virginia's College at Wise that broadened the in-state tuition area to include 13 Appalachian states resulted in 23 students coming to Wise County, according to a report from the Associated Press.
State lawmakers approved the change earlier this year in hopes of boosting enrollment at the school.
In encouraging news, US News and World Report ranks UVA Wise 18th in the nation for serving students who are receiving financial assistance such as PELL grants.
(University of Virginia's College at Wise / Facebook)