I-81 Bridge in Chilhowie, VA to be Dedicated to Fallen VSP Trooper Killed While On-Duty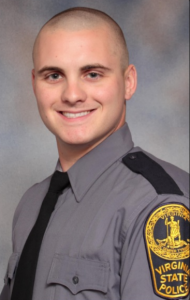 Several Virginia state leaders, law enforcement officials, family and friends, along with others will gather in Chilhowie this afternoon for a bridge dedication for fallen trooper Lucas B. Dowell.
Trooper Dowell, a four year veteran with Virginia State Police, was shot and killed in February of this year, while assisting with a search warrant during a narcotics arrest operation at a home in Cumberland County. Today at 2:00 p.m, the Interstate 81 bridge over Whitetop Road in Smyth County will officially be renamed to Trooper Lucas B Dowell Bridge.
Courtesy of Image: Virginia State Police