NEW: National organization says Blountville toddler missing since December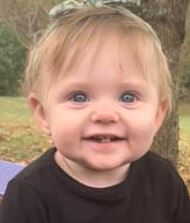 Information published by the National Center for Missing and Exploited Children says a Sullivan County, Tennessee toddler has been missing for nearly two months.
Evelyn Boswell, 16-months-old, was last seen on December 26, the report said. Other published reports said the baby's father, Ethan Perry, is currently on active duty with the US Armed Forces and is involved in the search and investigation along with the child's mother Maggie Boswell.
The report also said that the criteria of this case does not rise to the level of issuing an AMBER Alert of Evelyn.
Anyone with information on Evelyn's whereabouts can call (423) 279-7330 or 1-800-843-5678.