Supertalk 92.9 & Bristol Motor Speedway partnering to provide relief to tornado victims in Middle TN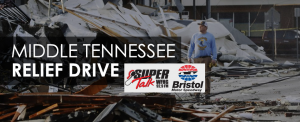 Supertalk 92.9 and Bristol Motor Speedway are teaming up to provide disaster relief efforts to those affected by the tornadoes in the Nashville and Middle Tennessee area.
Underway now, a tractor-trailer donated by Food City is parked at the track's north entrance and will accept the following new items. Bottled water, cleaning supplies, box cutters, non-perishable food items, toiletries, snack food items, trash bags, and gloves. Those items will be collected from 9 a.m until 7 p.m.
The items will then be transported to Nashville to be distributed to those in need.