TBI: Three dead, suspect killed following stabbings at East Tennessee Pilot Travel Center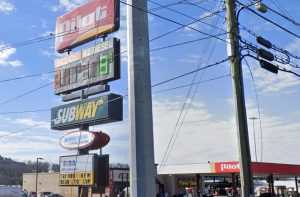 UPDATE, 3:00 p.m.
A statement from Pilot Flying J CEO Jimmy Haslam confirms that all three of the victims in Tuesday morning's stabbings were Pilot employees.
One of those workers was Joyce Whaley, according to a message posted on Facebook by the pastor of her church.
_______________________________________________________________________________________________________
Three people were stabbed to death and a suspect was shot and killed following a violent altercation at a truck stop in East Tennessee.
Preliminary details from the TBI says police were called to the Pilot Travel Center on Strawberry Plains Pike outside Knoxville just before 7 am and found the suspect in the parking lot. He was shot dead by an officer after refusing to drop the weapon.
Three women were pronounced dead at the scene and TBI spokesperson Leslie Earhart confirmed that some of the victims were store employees.
A fourth stabbing victim was transported to an area hospital for treatment.
(PHOTO: Pilot Travel Center on Strawberry Plains Pike, Knox County / Google)