Rocky Fork Park to be renamed after Lamar Alexander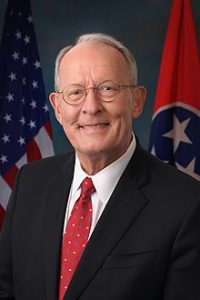 Rocky Fork Park in Unicoi County will be renamed after Senator Lamar Alexander of Tennessee.
Governor Bill Haslam issued an executive order decreeing the name change for the senior senator for his record of service and commitment to preservation.
Alexander was influential in securing federal funding for the land as a United States Senator. Rocky Fork is a 10,000-acre tract of mountainous land with elevations as high as 4,800 feet. Beginning in 2006, Alexander helped secure more than $30 million to purchase the tract and add it to the Cherokee National Forest so it would permanently available for public use. In 2012, Haslam announced more than 2,000 acres of the Rocky Fork tract would become the 55th state park.
Alexander, a native Maryville, has held his seat in the U.S. Senate since 2003. He served as governor of Tennessee from 1979-1987, served as president of the University Tennessee from 1988-1991 and was U.S. Secretary of Education from 1991-1993.