Early morning fire destroys home in Saltville, Virginia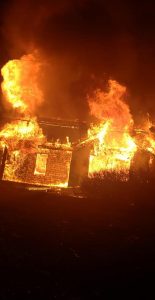 A home is considered a total loss after an early morning fire in Saltville, Virginia.
According to the Saltville rescue squad, they were dispatched to a fire at 3105 Saltville Highway just after 3:00 a.m, and when they arrived, the homeowner was already out of the house. Officials with the rescue squad confirmed no injuries were reported to the resident or fire crews.
Several other agencies responded to the fire and the roadway was temporarily closed before reopening around 7:00 a.m when crews left the scene.
Courtesy of Image: Saltville Rescue Squad