Proposed Pinnacle Casino & Resort gets website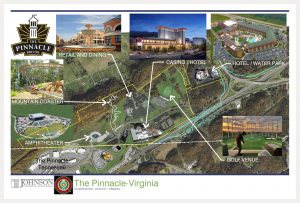 A new website is providing further details for a proposed casino and resort in Washington County, VA.
The Cherokee Casino & Resort at the Pinnacle site includes a description of what the facility could bring to the area, which estimates $300 million in annual economic impact and 3,300 full time jobs. Additionally, images on the site include such plans like for a state-of-the-art golf entertainment venue, water park, and amphitheater.
The Eastern Band of Cherokee Indians announced plans earlier this month to develop a casino at the shopping and entertainment center, despite another casino development already announced for the City of Bristol, VA to go in the former Bristol Mall location.
Neither project can move forward until casino style gambling is legalized in the state, and furthermore, it is unclear if the area could support two casinos just a few miles apart if the Virginia General Assembly grants both developments clearance to proceed. Attorney Greg Habeeb, who represents the Eastern Band of Cherokee Indians, calls for a competitive bidding process, as previously told to Supertalk.
Courtesy of Image: Cherokee Website