TVA releases excess water from downpours to make way for more rain next week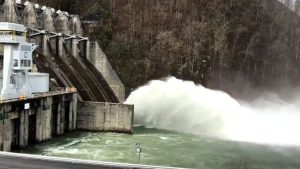 The Tennessee Valley Authority has sluicing operations in effect at the Boone Dam and other facilities to help empty reservoirs filled to the brim with several inches of rainfall from the past week.
The agency said the end result may push Boone Lake to a crest level of more than 1,300 feet and visitors should be aware of the fluctuating water. The move is also being completed to make room for even more heavy rains that are forecast for next week.
(PHOTO: TVA)