Charges pending in Monday crash in Johnson County that leaves five injured including child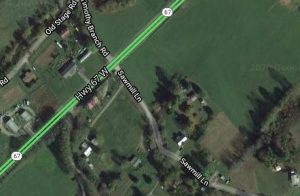 Five people, including a 3 year old child were taken to the hospital after a three car crash Monday in Johnson County.
A report from the Tennessee Highway Patrol says Lori Thomas was traveling east in a Nissan Titan on State Route 67 near Saw Mill Lane, when it crossed the center line, striking a Nissan Pathfinder and then a tractor-trailer, causing the Titan and Pathfinder to both run off the road. Thomas and her two passengers, including a three-year old were transported to the hospital, as well as the two people in the Pathfinder.
The driver of the tractor-trailer was not injured. Charges are pending against Thomas.
Courtesy of Image: TDOT