HCSO: Man arrested after allegedly keeping dogs in shed covered in feces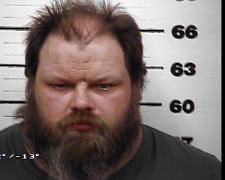 A man in Rogersville is charged with cruelty to animals after authorities say they found seven dogs in a small shelter that was covered in feces.
According to a Hawkins County Sheriff's Office report, a deputy spoke with suspect Paul Ellis Jr and a woman, who had argued about dogs being kept in a shed. A deputy told Ellis Jr to clean the shed or give up the dogs, but upon returning, found the dogs at a home in a small shelter and observed 8 to 12 inches of feces on the floor of the shed as well as rashes, cuts, and lacerations to the dogs. They also found the dogs to have a severe cough and wheezing, while two of the dogs spit up blood and vomited.
The Hawkins County Humane Society was called and Ellis Jr voluntarily gave up the dogs before authorities arrested him.
Photo Courtesy: Hawkins County Jail/Hawkins County Humane Society