Adoption hoax bill inspired by 2019 case in Southwest Virginia heading to Governor's desk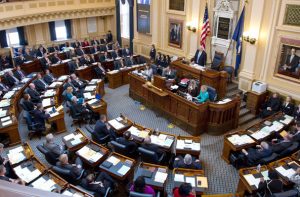 Legislation in the Commonwealth inspired by a 2019 adoption hoax case out of Scott County has made its way to Governor Ralph Northam's desk.
SB1003 , introduced by Senator Ben Chafin, will help close a loophole in the state which can allow individuals to maliciously use an internet capable device to perpetuate costly and potentially devastating fraud on victims, by making it a class 1 misdemeanor.
Last June, Elizabeth Ann Jones pleaded guilty for an elaborate scheme and fraud against a California couple wanting to have a baby by adoption. According to Wise County Commonwealth's Attorney Chuck Slemp, who prosecuted the case, Jones contacted the couple and told them she was pregnant and was looking for an adoption placement for her unborn child. Jones was convicted of obtaining money through false pretenses after the couple bought her meals and gifts.
The bill passed the Senate by a 38-2 vote in February and also passed the House by a 86-10 vote in March.