UPDATE: TBI confirms body found Friday is Baby Evelyn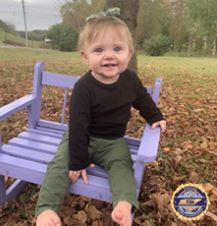 The fears of an entire region have been realized in the case of missing toddler Evelyn Boswell.
"As we feared, the remains have now been positively identified and are, in fact, those of the 15-month-old girl," said TBI spokesperson Leslie Earhart in an update posted on their social media networks.
The body was recovered in the 500 block of Muddy Creek Road late Friday on property owned by the family of the baby's mother Megan Boswell.
Sullivan County Sheriff Jeff Cassidy said he knows the public is anxious to learn what happened to baby Evelyn but cautioned about the extreme sensitive nature of the case and ongoing investigation.
"Certain aspects in the case can't be released to protect the integrity of the case. However, I assure you that certain and swift justice will be administered to anybody involved in Baby Evelyn's death," the sheriff said in the video update.
District Attorney Barry Staubus said earlier this week that the case would be submitted to a grand jury next month to determine if charges will be brought.
Megan Boswell remains in jail after a judge increased her bond to $150,000 during a hearing Monday. She is currently charged with one count of making false statements to law enforcement.