School district leaders in Sullivan County release joint statement regarding COVID-19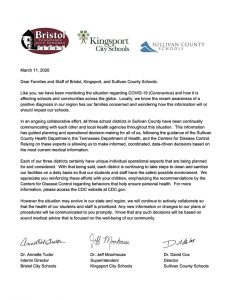 School leaders in Sullivan County are monitoring developments in the rise of COVID-19 in the US.
On Wednesday, the superintendents of Bristol City, Kingsport City, and Sullivan County Schools issued a joint statement saying they are continuing to keep in contact with each other and local health officials to help them make appropriate decisions regarding how to move forward should more cases arise in the region. The statement also said each district is continuing to clean and sanitize facilities on a daily basis.
The first case of the coronavirus in the Tri-Cities was confirmed earlier this week in Sullivan County.
A link to the statement is available here.