Fire crews on scene of house fire in Bristol, VA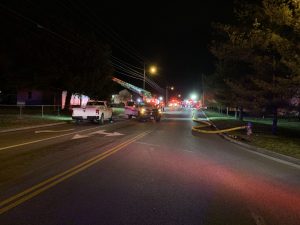 Fire crews in Bristol, VA are on scene of a house fire at Old Airport Road.
According to Bristol, VA Fire Chief Mike Armstrong, crews were dispatched shortly after 5 a.m Monday and arrived to find two adult occupants already out of the home while finding fire visible on all four sides of the house. Armstrong told Supertalk all three Bristol, VA fire stations responded while receiving assistance from fire crews in Washington County, VA. The Red Cross is on scene assisting the family, and he says most of the roof to the house is completely destroyed.
Police have blocked off the intersection of Old Airport Road at Kings Mill Pike until further notice. No injuries have been reported, the cause of the fire is under investigation, and we'll keep you updated as more information becomes available.
Photo Courtesy: T.Adams/Supertalk/Bristol, VA Fire Department