Hearing set for today for Evelyn Boswell's grandmother and boyfriend rescheduled to June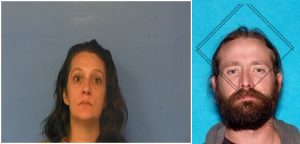 A preliminary hearing scheduled for today for the grandmother of Evelyn Boswell and her boyfriend has been rescheduled for June.
This decision was made following a state supreme court order to suspend all in person judicial proceedings for the remainder of March with the COVID-19 pandemic continuing to evolve locally and statewide. Angela Boswell and William McCloud are each charged with theft of property over $2,500.
The two were arrested in Wilkes County, NC in February in connection to a reported stolen BMW that was the subject of a BOLO during the TBI's search of the 15-month old toddler.
Angela Boswell stated during a court appearance on March 4th that she feels the charges are nothing more than a civil matter. The remains of Evelyn Boswell were located in a shed on the property of a family member of her mother Megan Boswell. A cause of death has not yet been determined, and Megan's case, who is currently charged with one count of filing false reports, is expected to go before a grand jury next month.
According to online court records, Angela Boswell and William McCloud are scheduled to be back in court in Bristol on June 9th.