NEW: TBI reports suspects in 2018 Bluff City homicide facing additional charges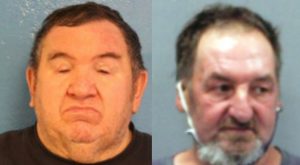 Brothers from Bluff City have been indicted by a grand jury on additional charges related to a 2018 homicide in Sullivan County.
The Tennessee Bureau of Investigation said James and Jimmie Fagans are both charged with money laundering and tampering with evidence after TBI agents determined guns owned by the victim, Herman Rumley, 72, was taken from his home and then sold them following the murder.
Jimmie Fagans was arrested in Marion, Virginia, and is in the process of being extradited back to Tennessee. James Fagans, who is charged with the second-degree murder of Rumley, was taken into custody in Bristol, Tennessee, and is being held in the Sullivan County Jail.
(MUGSHOTS: TBI)