Police: Trucker stopped in Bristol subject of bogus kidnapping phone scam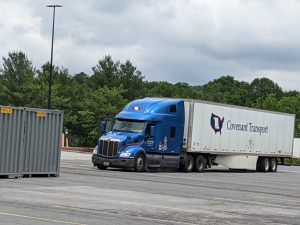 A deployment of SWAT team officers and other large-scale precautions near Exit 7's Bristol Walmart were luckily not needed Wednesday as a potential hostage situation turned out to be the results of a phone scam artist.
Preliminary information from both the Bristol, Virginia Police Department and State Police said their agencies were contacted by officials with Covenant Transport in regards to one of their drivers being the victim of a potential kidnapping case.
The phone scammer which was traced back to Mexico had demanded a ransom after telling the driver that a family member had been kidnapped, according to Trooper W.L. Stumbo of VSP and BVPD spokesperson Capt. Manyard Ratcliff.
After a hostage negotiator got involved and the scam was discovered, the situation was diffused and the initial investigation was concluded. The FBI has been contacted regarding the phony kidnappers.
(IMAGE: SuperTalk 929 / Bristol Broadcasting Co.)