SHARE: Police searching for Jonesborough man missing since June 2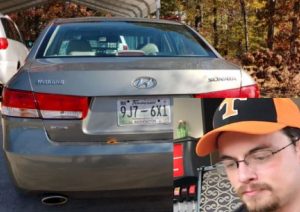 There's still no sign of a Washington County, Tennessee man who left for his job in Greeneville more than a week ago and never showed up.
The last reported sighting of Nicholas Todd, 33, of Jonesborough, was June 2nd just after 9:30 that morning when he left a family member's home on Pecan Wood Drive.
Investigators have collected surveillance footage from Limestone that day that shows Todd traveling in his light gold 2007 Hyundai Sonata on Highway 11 E.
Sheriff Ed Graybeal says officers from his department and Greene County have scoured the route but have not turned up any clues. Police continue to monitor Todd's bank account and cell phone—both have recorded no activity since his disappearance.
The license plate on Todd's car is Tennessee 9J7-6X1. Todd is 5 feet 8 inches tall weighing 150 pounds.
(IMAGES: Courtesy of WCSD TN)