Northam said Virginia continues to battle the COVID case tide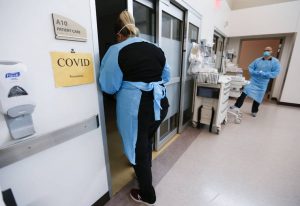 Governor Ralph Northam said at a press briefing Monday that the commonwealth will be ready when a new COVID vaccine will be available for children age 12 and under.
Northam said he anticipates that the shot will be produced by pharmaceutical companies and ready to ship by the end of October or early November. He also said that Pfizer vaccine boosters for at-risk patients are now available at all health department locations and pharmacies.
Current statistics show several Northern Virginia localities have vaccination rates above 50 percent for children age 12 to 15.
A data table generated Monday showed the average vaccination rate for 11 Southwest Virginia counties including the cities of Bristol and Norton is just below 30 percent for the same age group.
Northam continued to urge all Virginia adults to get their COVID shot but he also said the argument would be hard for someone who has yet to receive the vaccine 19 months into a global pandemic.
He gave a grim chore to those still waiting: "Think about how you want your obituary to read."
Northam said the cost of care and hospitalize unvaccinated adults has surpassed the $5 billion mark and that cost will soon be passed onto the consumer.
The governor was encouraged by the number of adults who have gotten the shot for COVID protection. Those stats place Virginia number one in the South and 14th in the U.S.
(IMAGE: ASSOCIATED PRESS)