Buchanan flood survivor: 'We got out alive'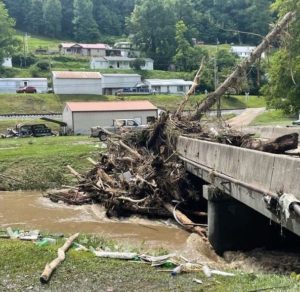 Retired coal miner Carl Owens said the rushing waters of Wednesday's flooding on Dismal Ridge in Buchanan County brought flashbacks from the 1970s back to his mind.
"I think it was even worse than 1977 (near our home) because (this flood) came fast. It just came fast," he said.
Owens was in nearby Oakwood Friday getting help to fill medical prescriptions that floated away. What's left of the family house is caked in mud and water covered.
Several residents were there to collect donations from local churches and Food City which shipped in more than $300,000 of cleaning supplies, food products, and water.
Owens put things in perspective despite the fact his family has temporary housing and federal assistance could be months away.
"We're alright, healthwise and all that. I've got to figure on that, you know. We got out alive. The other stuff can be replaced. You can't replace a life," he said.
The United Way of Southwest Virginia continues to accept contributions online to help those in the Whitewood and Pilgrim's Knob area. Donations can be made here.
(IMAGE: Virginia Department of Transportation / Official Facebook / DPI)