Three vehicle crash at Crossroads service station in Jonesborough kills one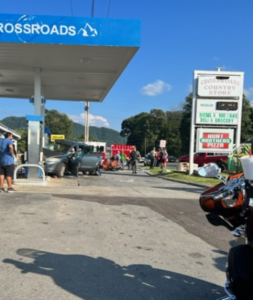 A motorcycle rider is dead following a three-vehicle crash in Jonesborough on Sunday.
A preliminary report from the Tennessee Highway Patrol says Monica Vance of Burnsville, North Carolina, was killed when she was struck and pinned underneath an SUV in the parking lot of a convenience store in the Crossroads area of Highway 81.
The review says the SUV driver was attempting to pull out onto the road but drove into the path of a truck. The impact sent the SUV into the lot where it hit Vance.
(IMAGE: B.N. / Special to Bristol Broadcasting Co News)