Local orthopedic group talks health care monopoly as Ballad makes JCMC emergency move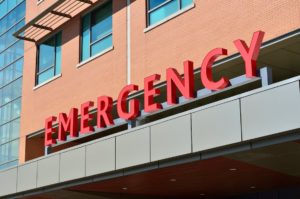 An orthopedic group that has provided trauma care in local emergency rooms for over 70 years is being removed from on-call coverage at Johnson City Medical Center.
The owners of Watauga Orthopeadics announced the change that will take place on Feb. 1 following a decision by Ballad Health to only allow their physicians to serve patients at the region's only Level 1 trauma unit.
Watauga's statement said Ballad's move was another step in monopolizing the region's health care and a blatant attempt to prevent their doctors from treating patients.
"Despite Ballad's blatant attempt to prevent us from treating our valued and loyal patients presenting to the ED, our team remains on medical staff at JCMC and is committed to having an orthopedic specialist available 24/7 to provide emergent orthopedic trauma care to patients of all ages at JCMC," said Watauga's report posted to social media Wednesday afternoon.
"It then becomes the patient's responsibility to request, even demand in some instances, that our (Watauga) provider be called to JCMC to provide their care in the (emergency department)."
Watauga Orthopaedics announced in October 2020 plans for a free-standing surgery unit to be constructed separately from Ballad that received state medical approval.
Bristol Broadcasting Company News received a reply to the Watauga report just before 6 p.m. on Wednesday.
It reads:
"As a major trauma center committed to following best practices for patient care, Johnson City Medical Center is committed to ensuring any patient presenting with traumatic injury is always quickly assessed and treated by physicians who are fellowship trained in orthopedic trauma and focus their practice on those patients. A recent public statement by Watauga Orthopaedics wrongly states that patients presenting to the hospital in need of orthopedic surgery care would no longer have a choice as to who provides that care. This statement is false.
Patients will always have the right to choose who their provider is in the hospital.
With regard to trauma care in a Level 1 Trauma Center, it is nationally a best practice in accredited Level 1 Trauma Centers for the protocols to ensure patients who present with certain traumatic orthopedic injuries are at minimum evaluated by a fellowship-trained orthopedic traumatologist. Orthopedic traumatologists are surgeons with extensive training in caring for patients with the most complex orthopedic injuries, and the availability of this service is a standard in Level 1 Trauma Centers across the country. Johnson City Medical Center is pleased to have made the investment to ensure all patients who present to the Level 1 Trauma Center with traumatic orthopedic injuries benefit from the availability of these fellowship-trained orthopedic trauma surgeons.
Watauga Orthopaedics is alone amongst the region's independent orthopedic groups in disagreeing with this decision. The elected medical staff leadership of Johnson City Medical Center agrees with this best practice protocol at Johnson City Medical Center. Watauga Orthopaedics is entitled to disagree with the medical staff leadership and best practices for Level 1 Trauma Centers. However, Watauga Orthopaedics' broad statement about patient choice is simply false. Any patient may, at any time, choose to be seen by an orthopedist of their preference."
(IMAGE: Pexels)